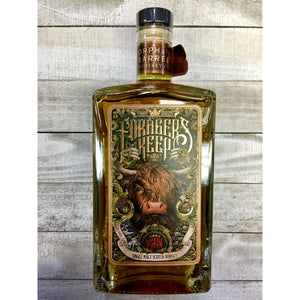 Shipping Not Available. In Store Pickup Only.
Forager's Keep 26 Year Old Single Malt Scotch Whisky is the latest release from the Orphan Barrel Whiskey Distilling Co. It is the fourteenth release and the first single malt Scotch whisky to appear in the collection. ABV 48%
Perhaps the shortest lived of all Speyside distilleries, Pittyvaich—Gaelic for 'farmstead at the birch wood'— was the innocent victim of industry restructuring. The distillery closed in 1993 through no fault of its whisky and has long since been demolished. Its pleasing single malt has never been widely available, though it has been proven to age well as none younger than 25 years of age remains. Most closed distilleries have produced for decades, even centuries before their closure. Pittyvaich lived for a mere 18 years, making it one of the most rarely seen single malts of all. This rare, limited release Forager's Keep 26 Year Old Single Malt Scotch Whisky has lived longer than the distillery from which it came. It is the first of its kind for the Orphan Barrel Whiskey Co.
Aromas:
Fruit and freshly cut, crisp red apple give way to a gentle vanilla creaminess sheltering dense.
Orange peel for a mellow, warming taste
Hint of wood spices and a sweet finish.