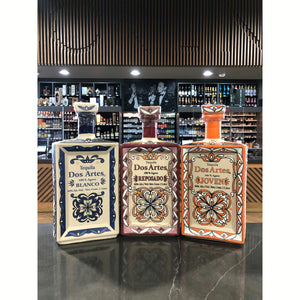 Size: 750 ML
Proof: 
Blanco: 80 Joven: 80 Reposado Wine Barrel: 80
Liquor Lineup Description: 
Introducing the pinnacle of tequila craftsmanship, the Premium Tequila Trio: Dos Artes Blanco, Joven, and Rosado - a remarkable 3-pack set that will elevate your tequila experience to new heights. Brought to you by Liquor Lineup, we proudly present this exclusive collection curated for tequila aficionados and connoisseurs alike.
First in this distinguished trio is Dos Artes Blanco, a tequila that embodies purity and authenticity. Crafted with utmost care, our master distillers meticulously select the finest blue agave plants, harvested at their peak ripeness. Through a traditional and time-honored distillation process, Dos Artes Blanco reveals its remarkable character - smooth, crisp, and brimming with vibrant agave flavors. Savor it neat or mix it in your favorite cocktails to add a touch of elegance to any occasion.
Next, we invite you to experience the harmonious blend of tradition and innovation with Dos Artes Joven. This extraordinary tequila is the result of a masterful fusion of young and aged tequilas, artfully crafted to achieve the perfect balance of flavors. Expect a symphony of oak, caramel, and vanilla notes, complemented by the rich agave undertones that dance gracefully on your palate. With each sip, immerse yourself in the mesmerizing complexity of Dos Artes Joven, a tequila that showcases the mastery of our distillers.
Completing this exquisite trio is Dos Artes Rosado, a tequila unlike any other. Indulge in the seductive allure of this uniquely aged expression, where the finest blanco tequila gracefully mingles with the essence of luscious red fruits. A captivating bouquet of strawberries and raspberries unfolds with every sip, enveloping your senses in a symphony of flavors. Dos Artes Rosado is an invitation to explore the realms of tequila innovation, offering a delightful departure from convention.
Crafted with unparalleled precision and unwavering dedication, this 3-pack set showcases the artistry and passion that defines the world of tequila. Each bottle in the Premium Tequila Trio: Dos Artes Blanco, Joven, and Rosado exemplifies the pinnacle of quality, ensuring an unforgettable tequila experience that will leave you longing for more.
Whether you're a seasoned tequila enthusiast or a curious explorer, this exclusive collection is a must-have addition to your liquor lineup. Elevate your gatherings, celebrate special moments, or simply indulge in the pleasure of sipping premium tequila at your leisure. With the Premium Tequila Trio by Liquor Lineup, a world of exceptional flavors awaits you. Cheers to the extraordinary!