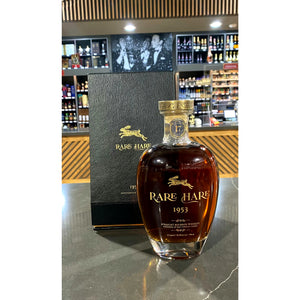 Size: 750ML
Proof: 111
Distillers Description: 
Our tribute to the year Playboy was founded, "1953" is Rare Hare's inaugural whiskey release. Bottled at 111 proof in a stunning box, this 17 Year Straight Bourbon whiskey was finished in XXO Cognac casks from the Champagne region of France. Because of the whiskey's rarity, only 1,953 bottles were produced for the US market. Rare Hare's "1953" embodies craftsmanship, sophistication, and a passion of Playboy Spirits. 
Maturity and dried fruit with specific aromas of caramelized nectarine and light clove.
Medium bodied with light herbal notes and creamed corn; light oak and baking spices.