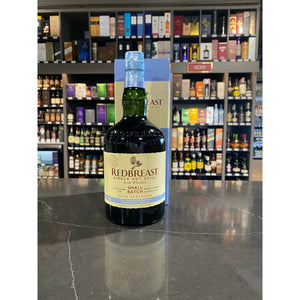 Free Father's day Gift engraving on this bottle 
-engraving dates Friday June 11 and Saturday June 26, 2021. After purchase please send engraving instructions to liquorlineup@gmail.com
as Vegas Area Delivery or In-Store pickup.
Shipping not Available 
Size: 750ML Proof: 117.4
Redbreast Small Batch Cask Strength Irish Whiskey 58.7% Alc 117.4 Proof Batch NO B1/19 This single pot still whiskey is tripled distilled, mature in American Oak Casks and Spanish Sherry Butts. The whiskies were then re-casked in Olorosso Sherry Butts to further the tasting notes. Nose: oak, black cherry, sherry and vanilla Palate: wood, spices, sherry and light vanilla Finish: spices and warming burn This whiskey is not for the faint of heart. You don't like strong whiskies, you are not going to like this. This whiskey is bold, intense and the strength of it is completely unapologetic. With olorosso sherry notes you'd certainly expect loads of sweetness in this whiskey but nope, I didn't get that. The sweetness in this whiskey is very short lived. It's lightly sweet, with minimal sherry notes that quickly disappear. You do get loads of spices and wood notes. It's an absolutely delicious whiskey. The tasting notes on the box lead you to believe that this is more of a sweeter whiskey but I find that it's more balanced in flavors. It's a complex whiskey and it will most certainly warm you up. This whiskey is for those who love Redbreast, love bold flavors, truly love Irish whiskey.