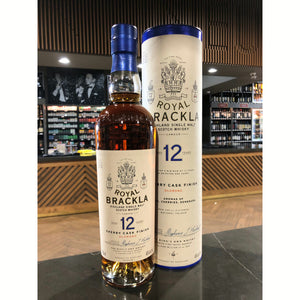 Size: 750ML
Proof: 86
Liquor Lineup Description: 
 Prepare to embark on a velvety voyage of liquid opulence with Royal Brackla 12 Year Sherry Cask Finish. Crafted with meticulous care and aged to perfection, this captivating single malt whisky exudes the elegant essence of sherry in a harmonious symphony of flavors and aromas.
The distinguished artistry of Royal Brackla 12 Year begins with a careful selection of the finest oak casks, previously housing Oloroso sherry. The whisky then undergoes a luscious finishing period within these seasoned casks, allowing the precious liquid to absorb the profound influence of sherry's distinctive character.
Upon indulging your senses, you'll be greeted by a regal tapestry of aromas that elegantly waft from the glass. Rich notes of succulent raisins and figs dance gracefully with hints of dark chocolate and toasted almonds. The enticing scent of dried fruits harmonizes with a subtle whisper of oak, creating a sensory masterpiece that entices with every inhalation.
As the whisky cascades over your palate, an exquisite symphony of flavors unfolds. The luscious sweetness of sherry gracefully intermingles with velvety smooth caramel, enveloping your taste buds in a blanket of indulgence. Waves of dried fruits, such as dates and sultanas, tantalize the senses, while gentle spices, like cinnamon and nutmeg, add a delicate warmth that lingers on the tongue.
The sherry cask finish bestows Royal Brackla 12 Year with a luxuriously long and satisfying finish. The gentle embrace of oak mingles with a subtle touch of malted barley, leaving a lingering sweetness that gently fades, inviting you to savor the moment and contemplate the intricate symphony of flavors that dance within this exceptional whisky.
The sherry cask influence on Royal Brackla 12 Year is truly transformative. The Oloroso sherry casks imbue the whisky with a captivating richness, intensifying its depth and complexity. The casks infuse the spirit with luscious dried fruit notes, adding layers of sweetness, while the interplay between the oak and sherry creates a refined balance of flavors. The result is a whisky of sublime elegance and sophistication, where the marriage of Royal Brackla's distilling artistry and sherry's majestic influence unite to create a truly remarkable sensory experience.
Indulge in the opulence of Royal Brackla 12 Year Sherry Cask Finish, a whisky that pays homage to the splendor of sherry and showcases the unparalleled craftsmanship of the distillery. Raise your glass to a whisky symphony that delights the senses and transports you to a realm of pure liquid splendor.