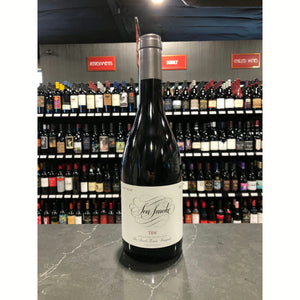 Distillers Description:
Winemaking: Hand-harvested, clusters were sorted in the vineyard and then gently destemmed following an evening in our cold room.
All 'jack stems' were removed on the sorting table. Musts were cold soaked in open-top fermenters for five days, and then inoculated with cultured yeasts to begin slow fermentation. Each tank was manually punched down two times per day, with a total maceration time of sixteen to twenty-eight days. Upon completion of primary fermenta- tion and maceration, all free run wine was transferred to tank for set- tling, and then pressed at extremely low pressure (0.08 bars) to avoid extracting bitterness. After settling overnight both free-run and press wines were racked to barrels. Ten was bottled with no fining and no
filtration.
Character: A brooding and intense wine. The aromas begin with notes of black tea, blackberry and orange rind, then a myriad of savory spices, and a hint of jasmine. Firm, mature tannins—evidence of Ten's ageability—are followed by a long, velvety finish.
Appellation Composition: Santa Rita Hills 100% Pinot Noir (Ten Clones, from which the wine takes its name)
Vineyard Source: Exclusively Sea Smoke Estate Vineyard
Alcohol:   14.7% by volume
pH: 3.43
Total Acidity: 5.7 g/L
Barrel Aging Oak Profile: 16 months
Exclusively French Oak—68% New Barrels
Release Date:  October 2022