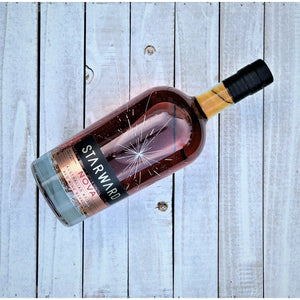 Shipping Not Available. In Store Pickup Only.
Uniquely Australian and a world firs. STARWARD Nova is crafted elusively with Australian wine barrels for maturation. Elementally matured in Australian red wine cask inherited from pioneering Australian wineries. 
Truly Melbourne Born & Bred
ABV 41% Proof (82.00)
Appearance:

 

Burnt umber
Nose:

 

It's not a strong smell but there are light hints of caramel and orange. There's a slight smokiness with earth and wood as well.
Palate:

 

The taste is very buttery and smooth but not strong on flavor. There's a peppery and burnt orange finish sprinkled with a hint of berries.