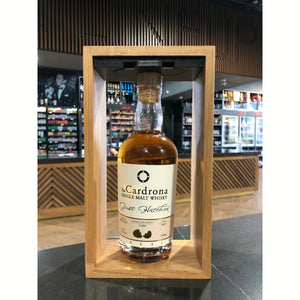 Size: 375ML
Proof: 128.8
Distillers Description:
New Zealand single malt whisky from Cardrona: Just Hatched. As the name might suggest, this marriage of ex-bourbon and ex-sherry casks is a special release to celebrate the young distillery's whisky turning three years old. And, it's already made a mark on the whisky scene, winning New Zealand's Best Single Malt Whisky in the 12 years and under category at the World Whiskies.
Colour: Natural colour, medium amber. An oily whisky that coats my new Riedel Vinum glass, with many and overlap legs running down my glass.
Nose: Caramalised brown sugar and hay. Russet apples on an old orchard tree after the autumn rain. There is alcohol on the nose, but considering the ABV is a mighty 64.4% it is impressively well integrated.
Palate: Viscous and full bodied. Spiced toffee apples, forest honey and vanilla. Again, there is heat from the ABV, but you may guess mid to high 50s, not mid 60s. With water, the mouthfeel becomes creamier, the vanilla increases, a more floral character emerges, and the spice softens.
Finish: A long, warming finish with caramlised apples, spice and chilli.