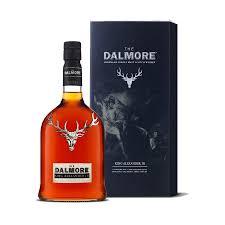 Shipping Not Available. In Store Pickup Only.
The Dalmore King Alexander III 750 ml 40% ABV, is the top expression of the Dalmore Principal Collection. The Dalmore King Alexander III is the only single malt in the world utilizing six different types of wood in maturation.
Appearance: This whisky has a rich copper hue with long legs.
Nose: 
The aroma is bright with light floral hints and heavier berry and tropical fruit notes. 
Palate: 
It has a balanced fresh tasting with wine, rich sherry, light caramel taste with nutmeg and orange spice finish.