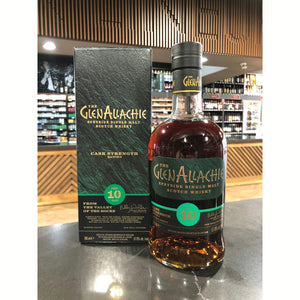 Size: 750ML
Proof: 115.6
 Distillers Description: 
The Glenallachie 10 year Batch 6 is a premium single malt Scotch whisky that is crafted with the utmost care and attention to detail. This exceptional whisky is created using only the finest hand-selected casks, which have been carefully chosen by our Master Distiller, Billy Walker.
With a vibrant, golden amber hue and a rich, complex aroma, The Glenallachie 10 year Batch 6 is an enticing blend of sweet, fruity notes and delicate floral undertones. On the palate, it delivers a smooth, creamy texture that is layered with flavors of honey, vanilla, and ripe orchard fruits, followed by a warm, lingering finish that is both elegant and satisfying.
This exquisite whisky is aged for a full decade in a combination of American oak, Pedro Ximénez and Oloroso sherry casks, imparting a unique depth of flavor and complexity to the spirit. It is bottled at 57.8 % ABV, without chill filtration or artificial coloring, ensuring that the full character and richness of the whisky shines through.
The Glenallachie 10 year Batch 6 is a true testament to the passion and expertise of our distilling team, and a must-try for any discerning whisky connoisseur.