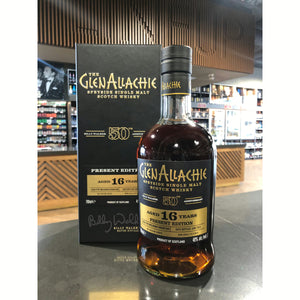 Size: 750 ML
Proof: 96
Distillers Description: 
 In celebration of Master Distiller Billy Walker's half-century long career in the whisky industry, we are delighted to unveil the second in The Past, Present and Future Series: The GlenAllachie 50th Anniversary Present Edition.
This rare expression illustrates Billy's present, where he is avidly implementing an incredibly innovative cask management policy. After initial maturation in PX and Oloroso Sherry casks, the spirit enjoyed secondary aging in specially selected Mizunara casks, a very scarce and expensive species of Japanese oak. Notoriously difficult to cooper and prone to leaking, these casks are rarely used for whisky maturation. Although posing difficulties, their porous nature lends to the spirit sinking deeper into the wood, imparting complex notes of sandalwood and cinnamon.
Presented at 48%, with no added colour or chill filtration for maximum flavour.
Limited release of 2,900 bottles worldwide.
TASTING NOTES
COLOUR
NOSE
Bursting with dark chocolate, heather honey and grilled almonds, with hints of sandalwood, ginger, orange zest, caramelised pecans and coconut shavings.
TASTE
Waves of heather honey, cinnamon and crystalised ginger, followed by demerara sugar, dried dark berries, hazelnuts and fig syrup.