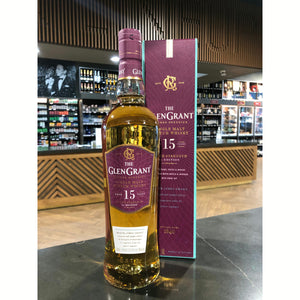 Size: 750ML 
Proof: 100
Distillers Description:
This 15 year is aged in ex-bourbon for 15 years and bottled at 50% ABV without chill filtration (color is not mentioned, so it might be color-adjusted). While Glen Grant does use sherry casks in some of its expressions, this is a purely ex-bourbon bottling. The bottle says "Batch Strength" which is a little odd when you think about it. Isn't every batch – literally all of them – at "batch strength"? It's definitely not the strength you'd get by dumping several dozen casks into a marrying tun… because it's a nice round number, and far too low. So, I guess "Batch Strength" must just mean "Not Cask Strength". Still, 50% ABV is very respectable.
Nose: Honeyed cereals with a solid backbone of orchard fruit. Fresh hay, lemon peel, ripe pear. Not complex, but round and robust. A rest in the glass adds some vanilla saltwater taffy.
Palate: Syrupy body. A moderate tongue burn is followed by deeply sweet marshmallow, vanilla cake frosting, melted ice cream, and chewy fruit-flavored candy (gummy bears?). Below the sweet notes there is a foundation of malty cereal grains and plain oak.
Finish: Medium length. Vaguely bitter, with a dose of black licorice (anise), barrel char, spicy cinnamon, and a touch of smoke. Fades slowly but without evolving. Odd that all of those sweet/candy notes have vanished.
With Water: Several drops of water seem to mute the aroma, even after a rest in the glass. The palate is softer but otherwise unchanged. The finish acquires some much-needed fruit notes and some sweetness. Try without water first, and then see if water changes it for you.