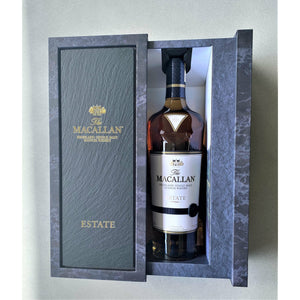 Las Vegas Area Delivery or In-Store pickup.
Size: 750ML
Proof: 86
Distillers Description:
The Macallan Estate is the Whisky Maker's tribute to our heritage and home. It is an extremely special new single malt containing rare spirit from a proportion of the barley grown at Easter Elchies estate, which is distilled just once a year over the course of a single week. Created by Whisky Maker Sarah Burgess, The Macallan Estate is a celebration of the single malt's peerless provenance and heritage.
EXPERIENCE
COLOUR: Conker, chestnut hue

NOSE: Warm, comforting and homely notes of cinnamon. Wood spice and orange oil, opening into dried fruits with a sweet lemon, banana and caramel

PALATE: Soft and warming with wood spice, opening into a dry oak flavour spiked with candied raisin and fresh fig. Moving into a sweet fresh orange and delicate fresh citrus

FINISH: A sweet citrus twist