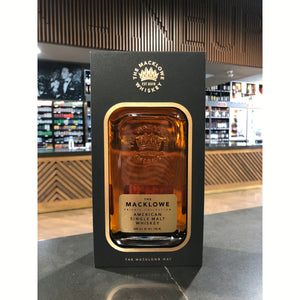 Size: 750 ML
Proof: 92
Distillers Description:
 The Macklowe is the first American Single Malt Whiskey sought after by worldwide collectors. Julie Macklowe's unique, proprietary distillation is the Ferrari of single malts, a true expression of luxury.
Julie's private cask of distinction, Cask Nº61, launched in December of 2021 as The Macklowe's inaugural release from an extraordinary collection of superior quality, impossible to replicate. With only 237 bottles highly allocated worldwide, pre-orders for both her subsequent second and third releases (Casks Nº60 & Nº62) were so highly anticipated that they sold out within minutes of launch.