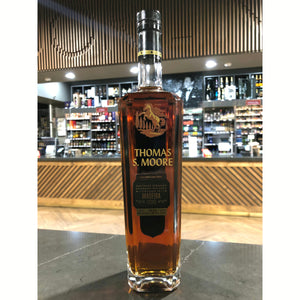 Size: 750ML
Proof: 96.50
Distillers Description:
Thomas S. Moore Kentucky Straight Bourbon
Whiskey Finished in Madeira Casks is described as having scents of complex oak and madeira wine, with hints of tobacco, citrus and dried fruits. The aroma follows through on the palate, adding sweetness and subtle acidity to the mild, slightly soft, yet well-rounded whiskey. The finish is bright and complex. This whiskey was finished in a variety of madeira casks for approximately two to four years and is 96.5 proof.