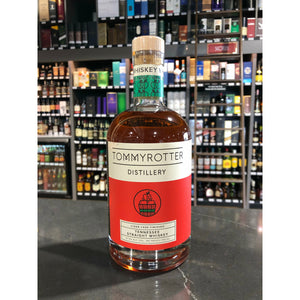 Las Vegas area Delivery or In-Store Pickup 
Shipping not available 
Size: 750ML
Proof: 95
Distillers Description:
We siphoned off some of the delicious 7-year-old high-rye Tennessee whiskey that is blended into our Triple Barrel American Whiskey and dressed it up a bit!
This whiskey was distilled in Tennessee in a bourbon mash style, then aged for 7 years* in recharred white American oak barrels. The whiskey was then finished for months in hard cider barrels from Black Bird Cider Works, a cidery along the rural southern shores of Lake Ontario.
*The TTB forbids age statements on labels on products finished in alternative barrels, but we're happy to share*
PRODUCT SPECS
Aroma—Candied fruit and a bright caramel profile.

Taste—Soft but full bodied, sweet classic bourbon taste. A rye spice finish that completes with a subtle cocoa aftertaste.

Proof—95 proof

Mash Bill—corn, rye, barley

Color—chestnut gold

Case—6 bottles / 750 mL

Production—one time / 260 cases