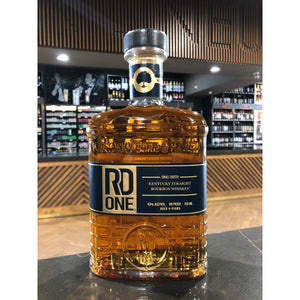 Size: 750ML
Proof: 98
Distillers Description: 
RD1 Spirit's Straight Bourbon is distilled in Kentucky using 100% copper equipment, aged 4+ years in Kentucky and bottled in Kentucky. We use 100% Kentucky corn and local limestone well water in our sour mash (also non-chill filtered). This traditional mash bill of 70% corn, 21% rye and 9% malted barley is a Bluegrass favorite for a reason.
The Packaging: Honoring the Past With Eyes Wide Open to the Future
RD1's custom glass bottle honors the first federally registered distillery in Lexington and the many brands it produced - the beautiful tree on the neck label is reminiscent of Ashland Distillery's old label and the glass lettering honors the Old William Tarr bottle. RD1's modern, concave bottle shape features the iconic horse farm fences of Lexington around the base in etched glass.
The Experience: Tried-and-True Lexington
This traditional Kentucky Straight Bourbon invites you in with delicious aromas of vanilla wafers and roasted almonds. When sipping, orange flavors are followed by honeyed caramel, herbal tea and peppery oak. A long, warm finish ends dry with a spicy hint of ginger and cinnamon.
If traditional tasting notes aren't your style, you may…
See – Your go-to piece of gold jewelry
Smell – The Kentucky Bourbon Trail
Taste – Your favorite cigar
Feel – Like you own a Lexington horse farm