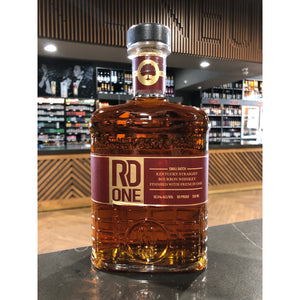 Size: 750ML
Proof:
Distillers Description:
This expression is RD1 Spirit's first exploration to marry the craft of traditional barrel-aged bourbon with modern finishing techniques focusing on unique wood.
French Oak, commonly known for its complimentary aging to cognac and wine, is considered an elite wood due to its tightness of grain and depth of flavor complexity. This oak comes from the great five forests of Central France. It is seasoned for two to three years in Northern California and then cut, milled and toasted to our specifications.
Simultaneously, RD1 Kentucky Straight Bourbon was aging in new American Oak barrels. After 4+ years, we inserted French Oak wood staves into the barrel for additional aging for two to four months. The French Oak beautifully rounds out flavors and develops a mellow, easy drinking bourbon.
The Experience: Sophisticated Kentucky Bourbon
A rich mouthfeel with caramel front and center on the palate supported by dark cherries and sweet oak. Finishes with dark chocolate and dries to oak with a touch of smoke.
If traditional tasting notes aren't your style, you may…
See – Your statement gold watch
Smell – Sunday brunch at the resort
Taste – Award-winning French toast
Feel – The camaraderie of a celebratory dinner with clients