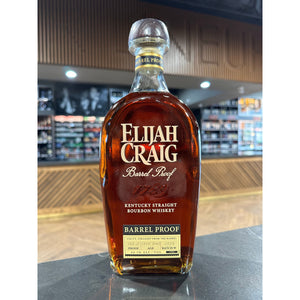 Size: 750ML
Proof: 133
Distillers Description: 
 Each batch of Barrel Proof contains an uncut selection of Bourbon bottled straight from the barrel. As a result, each batch varies by proof.
The batch number on the label provides specific
information about each batch. The first letter indicates the order of the release for that year, starting with "A." The first number represents the month of the release. The third and fourth digits indicate the year.
 To sip Barrel Proof is to experience Bourbon in its purest form: uncut, straight from the barrel, and without chill filtering. Each bottle is labeled with its unique proof and batch number; but the nose, taste, and finish are pure Elijah Craig.