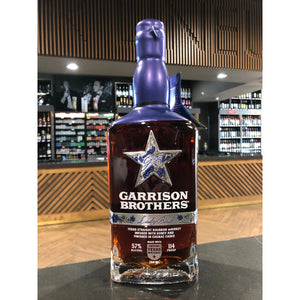 Size: 750ML
Proof: 114
Liquor Lineup Description: 
Like all of our bourbons, Lady Bird begins its life as our distinguished Small Batch Bourbon Whiskey. Master Distiller Donnis Todd selects barrels of this nectar that already display notes of honey, and delicately infuses them with Burleson's Texas Wildflower Honey for an additional 8-9 months. The liquid then ages in exquisite French Cognac XO casks for an additional 3 years, resulting in a harmonious blend of unparalleled flavor and elegance. This double-finished masterpiece reflects the perfect balance between sweet honey notes and the rich complexity of cognac.
LADY BIRD TASTING NOTES
Our Lady Bird Bourbon greets you with the inviting aroma of freshly cut grass and sweet honey accompanied by subtle notes of black cocoa waffle cone and honey wafers, creating a warm and enticing experience. As you take your first sip, true decadence unfolds on the palate: the rich taste of warm buckwheat pancakes, dark chocolate-covered cherries and malted milk balls. The complex profile also includes the indulgent essence of cognac cherries, dried figs and plums, offering a luxuriously unique tasting experience. The finish is long and satisfying; lingering on the tongue, leaving a lasting impression of the succulence derived from the harmonious marriage of honey and cognac flavors.