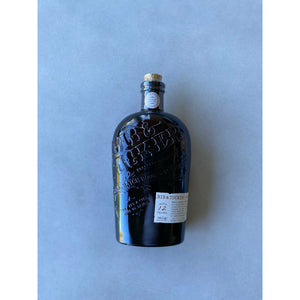 Las Vegas Area Delivery or In-Store Pickup
Size: 750ML
Proof: 99
Distillers Description:
To be alive in 1880s America was to know the taste of possibility and great bourbon. In that tradition we bring you Bib & Tucker 12-year-old Single Barrel Select. Patiently aged for the bourbon connoisseur, this is a limited offering of our carefully crafted 12-year-old bourbon, where long aging with Level 1 char oak has produced a stunningly smooth bourbon. Each barrel is being bottled individually at a warming yet rich 99 proof. Created to be collected and made to be loved, it is a wonderful opportunity to enjoy a historic bourbon at its finest.
With each barrel is bottled individually and will yield distinct nuances as no barrel is identical as they are truly aged by mother nature in the volatile climate of the hills of Tennessee. The extreme heat, humidity and cold environment lends to a creamier whiskey that allows every nuance of those 12 years to shine through without being covered by aggressive oak tannins and you can expect nice notes of toasted honey and that signature Bib & Tucker Chestnut like finish.