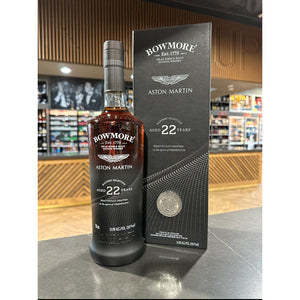 SIZE: 750ML
PROOF: 102
DISTILLERS DESCRIPTION: 
A limited-edition single malt created in collaboration between Ron Welsh, Master Blender and Marek Reichman Chief Creative Officer. Each one of them a master of their own art who shape and influence every product produced, be that a Bowmore single malt Scotch whisky or an Aston Martin car.
By bringing these two worlds and these two creators together, we call on their shared experience and skills to create a whisky which tells the story of the synergy between the brands and ultimately defines the partnership.
Colour: Mahogany​
Nose: Sweet and nutty with notes of Manuka honey and maple syrup, with praline and grilled hazelnuts; combine with rich aromas of freshly tanned leather.
Taste: Richly elegant sherry merges with raw Islay peat, whilst bitter dark chocolate unites with vanilla and coffee beans. A fruity flair is defined by Morello cherries and a touch of papaya.
Finish: Sweet, spicy and mouth warming, with notes of oak spices, chestnut cream and coconut lingering.