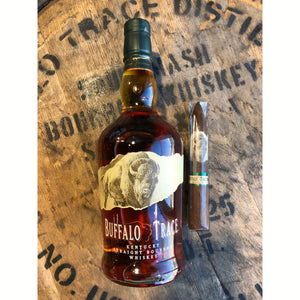 We present you with the opportunity to add an exclusive whiskey and cigar set to your collection at an incredible price!
Buffalo Trace Bourbon-Buffalo Trace Kentucky Straight Bourbon Whiskey is distilled, aged and bottled at the most award-winning distillery in the world. Made from the finest corn, rye and barley malt, this whiskey ages in new oak barrels for years in century old warehouses until the peak of maturity. The taste is rich and complex, with hints of vanilla, toffee and candied fruit. The smooth finish lingers on the palate. This will never change.Size 750ML Proof: 90
Buffalo Trace Cigar Special F -
Special F features the same great blend created to pair with Buffalo Trace Bourbon - Sun Grown Sumatra wrappers with long-filler ligeros from Nicaragua and the Dominican. This time however, there is one key difference… the binder leaf was aged for 6 months in Buffalo Trace bourbon barrels. This process adds a notable sweetness and a more oaky taste that elevates the blend to a whole new level.