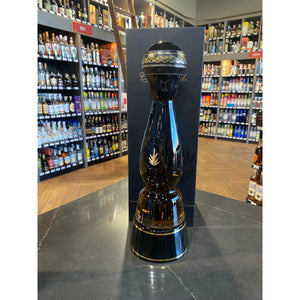 Las Vegas Area Delivery or In-Store pickup. 
An exquisite fusion between glass and cramic that give place to a phenomenal marriage of Tequila Clase Azul Plata and an eight year old extra anejo

With only 6000 pieces produced, "The Gold Collection" boasts a stunning hand-crafted and hand-painted base, a true depiction of Mexico's culturally exquisite artistry!
Size: 750
Proof: 80
The different colors of the bottle symbolize the mix of tequila inside- a rare blend of Clase Azul Plata - with clear and crisp notes - and a very special expression of Clase Azul Ultra Anejo aged for 8 years!  This particular edition of Ultra Anejo offers rich, dark, and complex notes as a result of the mixed aging process - a combination of reclaimed bourbon barrels and reclaimed Pedro Ximenez sherry casks.  This blend of tequilas and aging creates a surprisingly smooth taste that satisfies even the most discerning palate.