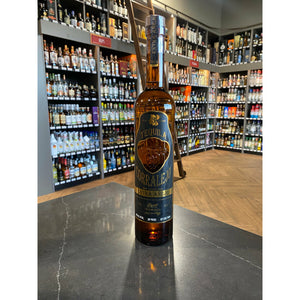 Las Vegas Area Delivery or In-Store Pickup
Shipping not Available 
Size: 750 ML
Proof: 80
100% blue agave tequila produced from double distillation in copper pot stills and aged for 36 months in oak barrels with a maximum capacity of 200 litres.
Fine selection of barrels with a toasting that brings out its excellent flavour.

Amber tones with copper flashes and a full body that is the result of a high-quality production process.

Sweet notes of cooked agave accented by spicy ones such as cinnamon, pepper and clove. Also noteworthy are the smoky notes brought out by fine toasting where woody and herbal notes are combined with the fruity aromas of coffee, walnut, apple and green pineapple.

A perfect smoked and woody flavour with initial notes of walnut, almond, vanilla and cooked agave. These give way to an aftertaste that denotes fine citrus and herbal strands along with smooth floral, chocolate and spicy notes including cinnamon and pepper. A 36-month aging regime yields a tequila with an impeccable, smooth flavour.