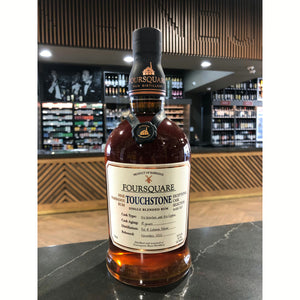 Size: 750ML
Proof:122
Distillers Description:
Introducing Foursquare Touchstone Rum, a truly exceptional spirit crafted with passion and expertise. Made in small batches in the beautiful island of Barbados, this rum is a testament to the art of distillation.
Matured in oak barrels for over a decade, Foursquare Touchstone Rum boasts a rich and complex flavor profile. It features notes of vanilla, caramel, and spice, balanced by a smooth and velvety texture. The finish is long and satisfying, leaving a warm and memorable sensation on the palate.
Whether enjoyed neat or mixed in a classic cocktail, Foursquare Touchstone Rum is the perfect choice for discerning rum lovers who appreciate the finest things in life. So why not indulge in a sip of luxury and savor the rich flavors of Foursquare Touchstone Rum