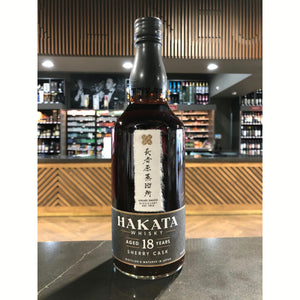 Size: 700ML
Proof: 84
Liquor Lineup Description:
Prepare to embark on a divine whisky pilgrimage with Hakata 18 Year Aged Sherry Cask Japanese Whisky. Crafted with unwavering dedication and a nod to tradition, this extraordinary spirit takes you on an unforgettable journey through the heart of Japanese whisky-making.
From the very first encounter, Hakata 18 Year Aged Sherry Cask Japanese Whisky captivates the senses with its alluring amber hue. The aromas that dance from the glass are a symphony of opulence—layers of dried fruits, velvety chocolate, and a touch of oak that whispers of the whisky's maturation journey.
As the liquid caresses your lips, you are greeted with a flavor profile that is nothing short of celestial. Succulent notes of raisins and figs intertwine with the indulgent embrace of toffee and honey. The palate is further seduced by a subtle dance of spices—cinnamon, nutmeg, and a hint of black pepper—that weave an intricate tapestry of flavors.
The exquisite finale of Hakata 18 Year Aged Sherry Cask Japanese Whisky is an experience that lingers long after the glass is emptied. Its velvety warmth and sophisticated depth leave an indelible mark on the palate, leaving you yearning for another taste. The sherry casks have bestowed upon this whisky a remarkable elegance, setting it apart as a true connoisseur's delight.
Immerse yourself in the essence of Hakata's legacy and passion with this exceptional 18-year-old sherry cask whisky. Its flawless flavors, masterful aging, and meticulous attention to detail have earned it a rightful place among the whisky elite. Raise a glass and bask in the magic of Hakata 18 Year Aged Sherry Cask Japanese Whisky today, and discover a taste sensation that transcends the ordinary.