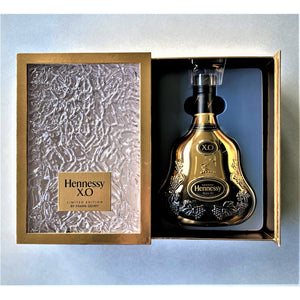 Las Vegas Area Delivery or In-Store Pickup
Shipping not Available
Size: 750ML
Proof: 80 
Distillers Description
Hennessy X.O X Frank Gehry Limited Edition
In the celebration of its 150 anniversary, Hennessy X.O presents a limited edition designed by Frank Gehry.
This new giftbox is a great synthesis of Frank Gehry's inspirations: the Charente river movement, the force of the nature and the richness of the Hennessy X.O blend.
The golden carafe embodies Frank Gehry's main theme in art: the reflection of light. The box also reveals the carafe's iconic silhouette by transparency.
A perfect gift for Hennessy X.O lovers and art enthusiasts!