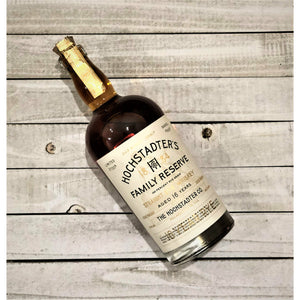 Shipping Not Available. In Store Pickup Only.
Bottled from 16-year rye whiskey aged in new charred oak barrels, Hochstadter's Family Reserve Rye clocks in at 123.8 proof.  This whiskey is sourced from Alberta Distillers Limited's 100% rye grain stock. With a release of only 7,500 bottles.
Appearance: In a glass, this rye appears a light copper brown. While aged 16 years, the cooler Canadian

 

climate

 

resulted in a slower aging cycle, which led to a lighter color than may be expected of a 16 year whiskey aged in a new charred oak barrel.
Nose: Seasoned oak, clove, and light notes of mint dominate the nose, and a lighter cereal note appears underneath.
Palate: On the front of the palate, baking spice notes of clove mingle with vanilla and oak. The baking spices carry over to the mid palate while the sweeter notes of vanilla and oak subside. Interestingly, a quick transition turns the sweeter notes to dark fruit notes, including a strong plum note that dominates the short and dry finish.