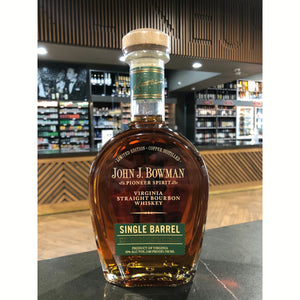 Size: 750ML
Proof: 100
Distillers description:
Our John. J. Bowman Bourbon commemorates the great, great uncle of Abram Bowman, who founded A. Smith Bowman Distillery. We hand selected from some of the oldest barrels in the warehouse and produced a single barrel bourbon with hints of toffee, leather, figs, and almonds. John. J. Bowman was awarded World's Best Bourbon.
The green label signifies that the barrel was selected by Master Distiller Brian Prewitt. FYI, It's the same age, proof and mash bill as A Col. Taylor Single Barrel. 
Distiller A. Smith Bowman Distillery
Parent Company Buffalo Trace / Sazerac
Age NAS - Minimum of 9 Years.
Mash Bill Buffalo Trace Rye Mash Bourbon.
Proof 100 / 50% ABV⁣⁣⁣