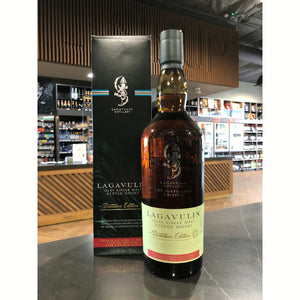 Size: 750ML
Proof: 86
Distillers Description:
Created with passion and skill since 1816, this iconic Lagavulin celebrated its 200th anniversary in 2016 and is for many the pinnacle of Islay malts; intense in flavour, smoky and rich. It's quite a legacy to carry in a bay from which the sons of Somerled, Lord of the Isles, sailed to war; a bay guarded still by his ruined castle, Dunyvaig. Barley malted over local peat smoke imbues Lagavulin with its rich mix of shoreline airs and scented, smoky dryness. Here's a whisky so intense it turns away the cold. Lagavulins special editions and older releases are vanishingly rare and highly sought after.
The DISTILLERS EDITION is a collection of master-craftsmanship. Each cask in the series is individually selected and perfectly matched to the character of each of the single malts refined here. The two-parted maturation process gives more depth and complexity, which is the idea behind the limited DISTILLERS EDITION: preserving the perfection of the single malts that have already been awarded for their outstanding flavours. The selected taste nuances are more strongly accentuated in a way that is not found in the regular bottlings, but with fully maintaining the original character of these fine single malts.
SCOTLAND'S FINEST - Since 1997, the Distillers Editions have been an annual release of limited quantities, each very much true to its origins yet possessing a rich depth, complexity and nuance of flavour not found in the regular release. This excellent Lagavulin whisky has been firstly matured in Refill American and European Oak casks. With the second maturation finished in Pedro Ximenz-seasoned re-charred American Oak with heavily re-charred new AO ends.

PURE FLAVOUR - This unforgettable Distillers Edition of Lagavulin delivers an extra rich raisin-sweet flavour, with a dark smokiness that intensifies as the peat grows.

SERVE SUGGESTION - Whichever Distillers Edition Scotch Whisky you choose, you are guaranteed to enjoy one of the finest single malts Scotland has to offer. Each of these whiskys is one of the best representatives of one of the six beloved whisky regions. Just try each of these successful bottlings one by one and embark on a tasteful journey through the whole of Scotland. Best enjoyed neat or with a sip of water to neutralise the palate.

AWARDED - The Distillers Editions have already won awards at major international competitions. Their international success and widespread acclaim set these annual collections apart as representatives of true special edition whiskys. The house of Lagavulin has also received several awards in the highest categories worldwide. A true success across the board.