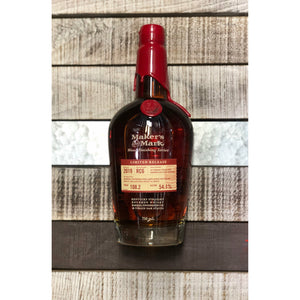 Las Vegas Area Delivery.
750ML  -Proof 108.2 -ABV 54.1 % 
Finished with 10 very distinct wood staves (Stave Profile RC6), the Maker's Mark Wood Finishing Series 2019 Limited Release Bourbon was crafted to feature more pronounced fruit notes and a brighter finish while retaining the balance of baking spice and sweetness found in the original Maker's Mark. This unique expression is being bottled in small quantities and will be available nationally for a limited time. 
Tasting Notes:
Nose: Fruit-forward aromas, there is a lot of fresh banana.
Palate: Sweet vanilla and caramel, and flavors of ripe apple and spunky baking spice.
Finish: A blast of spice containing buttered rum, hints of tobacco and leather, and aged oak all greet me on the finish.