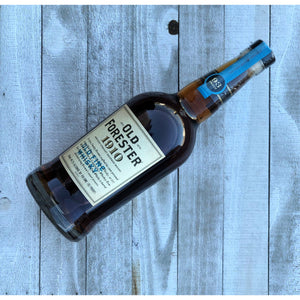 Las Vegas Area Delivery.
Proof: 93
Size: 750ML
On October 22nd. 1910, a fire on the bottling line halted production of Old Forester. Mature whisky ready to be bottled, instead was stored in a secondary barrel. What emerged was a delightful whisky, remarkable enough to become an entirely new expressions – Old Fine Whisky.
Aroma: Interlaced layers of buttercream, sticky toffee, cedar, and apricot.

Taste: Smooth, well rounded mingling of sweet oatmeal raisin cookie and milk chocolate leading into caramel corn and evolving spice.

Finish: Charred oak leads with a clean peripheral spice.