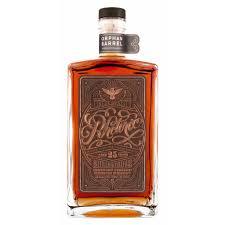 Shipping Not Available. In Store Pickup Only.
45.5% ABV
Orphan Barrel is once again releasing a whiskey — aged 25 years this time — but it's also announced that this will be the last Rhetoric release
On the nose, Rhetoric displays oak, with vanilla, dried fruit, cherries, and some spice coming to the forefront as well. The palate is also oak-forward, with baking spices, caramel, some muted sweet corn, and dark chocolate coming through. The finish warms all the way down. At 45.5 percent alcohol by volume, it is the strongest of the Rhetoric releases (each has gone up .1 percent in alcohol, starting with Rhetoric 20, which was 45 percent ABV). Just as the proof has gone up year after year, the color of wood texture in the label has gotten dark, representing the whiskey itself getting darker in color with every subsequent year.