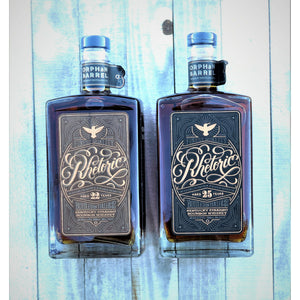 Shipping Not Available. In Store Pickup Only.
We present you with the opportunity to add two elusive whiskeys to your collection at an incredible price!
Rhetoric 22-Year -Old Kentucky Straight Bourbon Whiskey 750ml Matured 22 Years 45.2% ABV
Rhetoric 25-Year-Old Kentucky Straight Bourbon 750ml Matured 25 Years 45.5% ABV
Every Orphan Barrel whiskey is hand bottled in Tullahoma, Tennessee to ensure that these rare whiskeys are treated with the care they deserve – because some of them will only be available once. And once they're gone, they're gone forever.