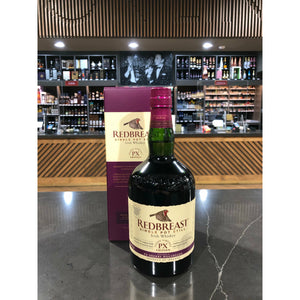 Las Vegas Area Delivery or In-Store Pickup
Shipping not Available 
Size: 750ML
Proof: 92
Before being finished in the finest Pedro Ximenez hogsheads, this SIngle Pot Still Irish Whiskey has been matured in both Bourbon and Oloroso Sherry casks.
The nose begins with notes of sweet nuts, dried fruit and cinnamon spice. There is a wonderfully warming sherried note as well, all wrapped up in oak wood.
The palate is brimming with fruit flavours, toasted oak and sweet nuts. There is a hint of Christmas cake, with warming spices and lots of dried fruits and nuts. The oak wood is sweet and has hints of vanilla.
The finish is long and lingers on sherried notes and oak wood