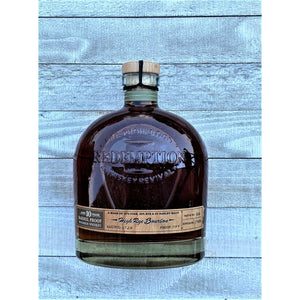 Las Vegas Area Delivery or In-Store pickup. 
shipping not available 
Redemption Whiskey is carefully hand-crafted in the river town of Lawrenceburg, Indiana at the 172-year-old MGP Distillery – Whisky Advocate's 2015 Distiller of the Year. While Redemption is perfect to enjoy neat or on the rocks, it also serves as an excellent base when used in both classic and modern cocktails. Its bold, spicy notes shine through any cocktail without overpowering the drink.
COLOR
Dark gold, flecked with crimson.
AROMA
Rich vanilla oak with hints of aged balsamic and violets.
PALATE
The silky texture of this whiskey is simply amazing combined with the spicy rye backbone, the flavors abound. Toffee, honey, and roasted nut flavors dominate this whiskey, which finishes with the exotic flavors of star anise, nutmeg, and a hint of lemongrass.
TECH DATA
Mash Bill: 60% Corn, 36% Rye, 4% Malted Barley
114.8 Proof
10 Years Old