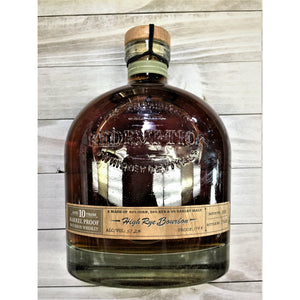 Shipping Not Available. 
In Store Pickup Only.
These limited edition whiskeys are offered with the same mashbills as their standard bottlings, but are bottled at cask strength, each year's batch will varying slightly. This high-rye bourbon has a mashbill of 60% corn, 36% rye, and 4% malted barley. Bottled at 57.4% ABV, it matured for 10 years in new, charred American oak. 2017 marks a new look for the Barrel Proof Collection with wider, squat bottles.
Nose:

 

Heavy vanilla, caramel and that famous MGP seasoned wood. Baked apples with cinnamon. In the background, a faint toasted orange peel. This is a typical MGP bourbon with a touch more fruit than I normally get.
Palate:

 

Way sweeter than I gave it credit for. A literal dark brown sugar bomb in my mouth followed by cherry cough syrup, pine needles, herbal tea and a decent amount of toasted orange peel and grilled lemons.
Finish:

 

Sweet mint, a small hint of dill, Sugar Daddy Caramel Pops, and a smoldering heat that lingers like a pinch of ground black pepper.