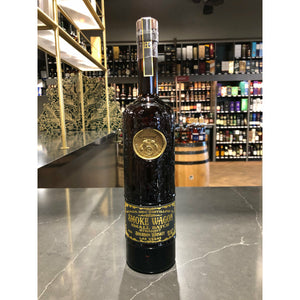 Las Vegas Area Delivery 
Nevada H&C Distilling 2016 and 2017 San Francisco World Spirits Competition Gold Medal Winner 2021 Double Gold Medal Winner Smoke Wagon Small Batch Bourbon Whiskey. Good balance of sweet and oak flavors including hints of caramel (from the #4 charred barrels, caramelized wood sugar), fruit flavor and rye spice. Finishes smooth with no alcohol burn even at 100 proof.
Nose: Balanced oak nose with hints of fruit and dried apricots.
Taste: Initial sweet notes on the front of the tongue. Well balanced mouth feel with spicy notes including white pepper on the middle and back of the tongue from the younger vintage and high rye mash bill.