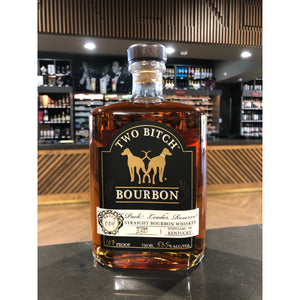 Size: 750 ML
Proof: 107
Distillers Description:
Two Bitch Bourbon Pack Leader Reserve is released in very small batches and only from barrels that stand out from the pack. Batch 004 is a limited-edition gem distilled in the heart of Kentucky for Two Bitch Spirits Ltd. This is an opportunity you don't want to miss!
Elevate your collection with this exceptional release. Pack Leader Reserve™ is a true connoisseur's delight.
Time is of the essence with limited availability!  This is a limited time pre-sale opportunity to secure your bottles before they're gone!
Old dogs, good friends, cozy fires and a glass of Pack Leader Reserve™ create the perfect combination for making memories and sharing good times. Our Pack Leader Reserve™ is created from rare barrels of remarkable bourbon that stand out from the pack. Be remarkable and raise a glass in toast: For the Love of Dogs, Bourbon & Good Times!
KENTUCKY STRAIGHT BOURBON WHISKEY
PROOF: 107
ALC./VOL.: 53.5%
Tasting Notes
Visual: Deep radiant sienna
Nose: A delightful combination of sweet and woody aromas. Notes of caramel and vanilla are complemented by hints of toasted oak.
Palate: The palate reveals crème brulée, sweetness of caramel and vanilla. An oak influence delivers a subtle spice enhancing the overall complexity.
Finish: Toasted oak from the aging process imparts a gentle spice on the tongue, perfectly balancing the sweetness for a smooth finish.