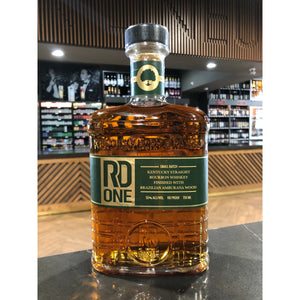 Size: 750ML
Proof: 110
Distillers Description:
While Amburana is a commonly harvested tree in South America, this was a new find for a craft distilled spirits producer like us. Amburana is known as "Brazilian Oak" and often used in South America for making essential oils, crafting luxury furniture and barrel aging Brazil's most popular spirit, Cachaça.
Our partner cooperage uses a patented technique to honeycomb drill small holes into the Amburana staves, allowing more wood surface interaction with the Bourbon. After aging RD1 Kentucky Straight Bourbon for 4+ years, we insert the Amburana staves into the barrel. It doesn't take long for Amburana's character to beautifully influence the bourbon. The end result represents RD1's curiosity to learn, experience, explore.
The Experience: A Step Beyond Bourbon
The best of baking spices – apple cinnamon, nutmeg and light brown sugar – come alive on the nose and are followed by pine, vanilla, peaches and apricots. Flavor galore with spice cake, and ginger snaps in a rich mouthfeel. Try a drop of water to open up hints of herbal black tea, dark berry jam and pineapple pepper. Finish is long and warm, and ends with allspice and sweet oak.
If traditional tasting notes aren't your style, you may…
See – Family heirloom coin collection
Smell – Sugar-cookie decorating party
Taste – Sweet and savory, begging for a Hot Toddy
Feel – Snowed in for the holidays