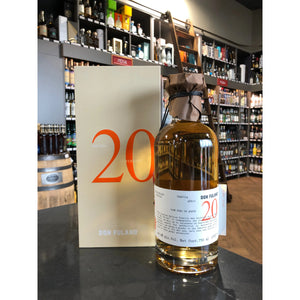 Size: 750ML
Proof:
Distillers Description: 
To celebrate its 20th anniversary, family-owned brand Don Fulano is launching a one-time, limited release Añejo made up of three different tequila batches from the estate's iconic orchards.
"We are excited to share this very special blend with the world," Sergio Mendoza, co-founder of Don Fulano, said. "We are very grateful for this great journey and have been working hard to create something special that represents these past 20 years."
Naturally fermented and distilled in copper, then aged in Oloroso and Amontillado sherry casks, the blend is bottled at 44.4% ABV and has notes of apricot, old leather, cacao, cooked agave, orange blossom and cardamom.
"The time and effort that has gone into every bottle of Don Fulano is a testament to the hard work Sergio and the team put in every day," Britt West, GM and SVP of Spirit of Gallo, said. "From the people who work in the fields [to] the distillery team, everyone involved with the brand is dedicated to crafting the highest quality tequilas to share with the world. I look forward to the next 20 years with Don Fulano!"